Art Vuolo: National Treasure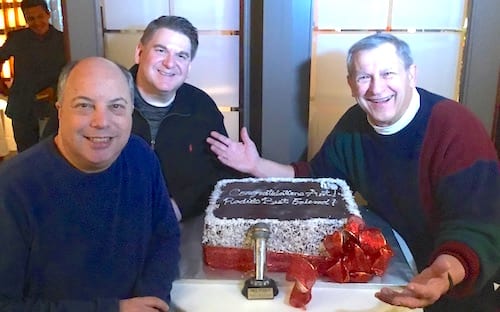 • Industry icon Art Vuolo's longtime title as "Radio's Best Friend" was lovingly reinforced last Saturday in New York during the annual star-studded holiday party sponsored by his friends of over 40 years — voiceover royalty Steve Kamer (center) and Kevin Gershan (left), longtime Producer/Director of Entertainment Tonight. The room was packed with such industry luminaries as Elvis Duran, Gillette from WPLJ/New York, Jerry Padden from WLEV/Allentown, PA; Mary Walter from WMAL/Washington, Ben Mevorach and Ivan Lee from 1010 WINS/New York, Maria Garcia from WCBS-AM/New York, Nina Hajian and Astra, formerly of 92.3 AMP Radio/New York, Rick Joyce from Tribune Media, Rich Cervini from CBS Television Distribution and many others.
As Art (right) explains the evening, he thought he was there only in his usual capacity to videotape the proceedings, but was shocked when he was suddenly introduced as the guest of honor! According to alert eyewitnesses, Art nearly dropped his camera when he was summoned to the stage and presented with the awesome microphone award and a delicious commemorative cake.
As Gershan tells RAMP, "This annual award recognizes those individuals who have made an impact, not just on our lives, but the overall broadcast industry. They have been and continue to be unique in their talent, community involvement and passion for the entertainment business." Clearly overcome with emotion, Art said, "It's truly special to be so appreciated." Yes you are, Art!!