Buffalo! Let's Get Ready To Roast!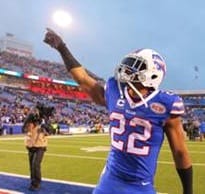 • Entercom Sports powerhouse WGR-AM 550/Buffalo will honor Fred Jackson, former longtime Buffalo Bills running back, on Thursday, February 15 at the 4th annual WGR Celebrity Roast. Jackson played for the Bills from 2006-2015. The event will be hosted by WGR morning personality Howard Simon, and will feature an all-star panel of Jackson's former teammates, including Eric Wood, Aaron Williams, Bryan Scott and Ryan Fitzpatrick, as well as Jackson's twin brother, Patrick Jackson.
"The city of Buffalo is incredibly passionate about their hometown Buffalo Bills and Fred Jackson is a respected and beloved figure in the community," says Greg Ried, SVP/Market Manager of Entercom Buffalo. "Jackson was a unanimous decision by the WGR team. For his determination, compassion and drive, on and off the field, we are excited to honor him at this year's WGR Celebrity Roast."
Attendees will also be able to bid on autographed memorabilia and specialty experiences during a silent auction. The proceeds of the auction will benefit the Courage of Carly Fund, an organization that supports research and supportive programs for young patients battling cancer and blood disorders at Roswell Park Cancer Institute. For tickets and more information, visit wgr550.com.