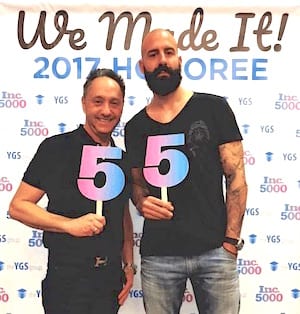 Movers and shakers from all walks of life gathered in Palm Desert, CA this week to attend the 2017 Inc. 5000 Conference at the beautiful JW Marriott Desert Springs Resort & Spa. Among the esteemed attendees were Benztown President/co-Founder Dave "Chachi" Denes (left) and CEO/co-founder Andreas Sannemann (right).
Benztown, recognized as a global leader in radio imaging, voiceover, programming and jingles — and an Inc. 5000 Honor Roll member, was named by Inc. magazine this summer as one of America's Fastest-Growing Private Companies for the fifth consecutive year. Fewer than 1/10 of all Inc. 5000 honorees — an already select group — ever achieve this milestone through a consistent growth trajectory that places them on the elite list for five consecutive years.
The Inc. 5000 is an exclusive annual ranking of the fastest-growing private companies in the United States, ranked according to percentage revenue growth rate over a three-year period. Companies must have generated at least $100,000 in revenue in 2013 and at least $2 million in 2016 to qualify for the listing. They must also be U.S. based, privately held, independent and for-profit. Companies such as Microsoft, Zappos, Intuit, Under Armour, Timberland, Jamba Juice, Zipcar, Clif Bar, Vizio, Oracle and many other well-known companies gained early exposure as members of the Inc. 5000.