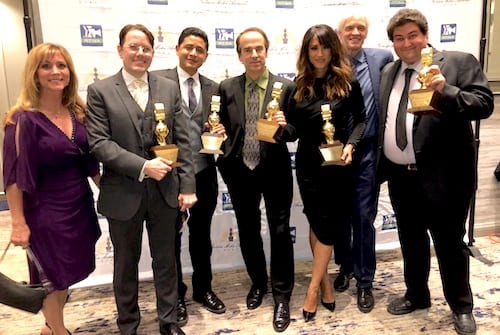 • Cumulus News-Talk 790 KABC/Los Angeles swept the 68th Annual RTNA Golden Mike Awards on Saturday, January 27, capturing top honors in all five categories in which the station was nominated — Best Newscast Under 15 Minutes (Leeann Tweeden, Anchor; Sharon Reardon, Editor); Best Sports Segment (Randy Wang); Best Government and Political Reporting (James Rojas); Best Traffic Reporter (Bill Thomas) and Best News Reporting by Radio Network or Content Syndicator (Jim Roope).
Dawn Girocco, VP/Market Manager of Cumulus Media Los Angeles, said, "We thank and congratulate 790 KABC's Drew Hayes, Nathan Baker, Doug McIntyre, Leeann Tweeden, Randy Wang, Les Seigel, Tim Winebrenner, Bill Thomas, Sandy Wells, Sharon Reardon, James Rojas, and Jim Roope for their professionalism, dedication and hard work in delivering award-winning news reporting and coverage to our listeners and community. Five Golden Mikes made for an incredible evening for our team! It's an honor to work with these talented news professionals and we couldn't be prouder of this fantastic recognition of the outstanding work they do each and every day."
Pictured, proudly posing with their hardware, (l-r): Sharon Reardon, Nathan Baker, James Rojas, Bill Thomas, Leeann Tweeden, Doug McIntyre and Randy Wang.