Gracie Entries Through The Roof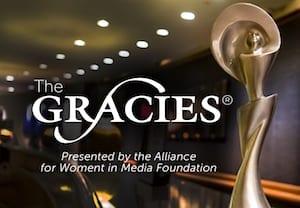 The Alliance for Women in Media Foundation (AWMF) revealed that the 2018 call for entries for the annual Gracie Awards was the most successful in the program's history. The Gracies are the largest fundraising event by AWMF, the philanthropic arm of AWM that supports educational programs, charitable activities and scholarships to benefit women in media.
This milestone comes as AWM and its Foundation (AWMF) announce their 2018 National Board of Directors: new to the AWM Board are Joyce Fitch, EVP, General Counsel & Secretary, Beasley Broadcast Group, Inc., and Diane Schwartz, SVP & Group Publisher, Media Communications Group, Access Intelligence. "It's exciting to see so many outstanding programs and performances entered for the 2018 Gracie Awards," said incoming AWM/AWF Chair Christine Travaglini, President of Christal Radio. "The ability to recognize the role of women in such extraordinary content is important now, more than ever."
• The Chairperson-Elect of AWM/F is Keisha Sutton-James, VP of Inner City Broadcasting; Heather Cohen, EVP of The Weiss Agency will serve as Treasurer, while Sarah Foss, Chief Product Officer, Advertising Management Systems, Imagine Communications will serve as AWM/F Past Chair.
• The following individuals will serve as Directors at Large of AWM: Christina Barlowe Villano, Charter Communications; Kelly DeLace Perdomo, SiriusXM; Joyce Fitch, Beasley Broadcast Group, Inc.; Susie Hedrick, Wide Orbit; Jinny Laderer, vCreative; Meg LaVigne, Litton Entertainment; Laura Martinez, Westwood One; Alison Rudnick, HLN; Diane Schwartz, Access Intelligence; Josie Thomas, CBS Corporation and Gayle Trotter, American Women's Alliance.
• The following individuals will serve as Directors at Large of AWMF: Karla Ballard Williams, YING; Valerie Blackburn, Entercom Communications; Anne Cowan, CTAM; Annie Howell, The Punch Point Group; Christine McLaughlin, Sciarrino & Shubert, PLLC; Deborah Parenti, Radio Ink, RBR and TVBR; Rob Stoddard, NCTA and Kristen Welch, Illustrative Mathematics.
The 43rd Annual Gracie Awards Gala is happening May 22 at the Beverly Wilshire in Beverly Hills, and the Gracie Awards Luncheon will be held June 27 at Cipriani 42nd Street in New York.