CBS Radio Rings In '18 With Foos, Duran & Zac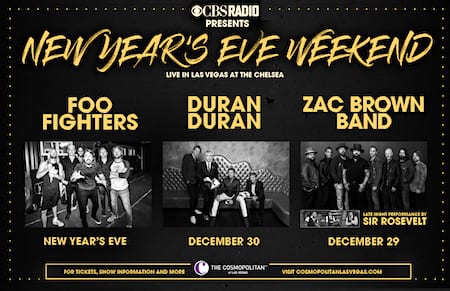 CBS Radio will help ring in the New Year in a large way with an awesome line-up of New Year's Eve weekend shows at The Cosmopolitan of Las Vegas. Beginning Friday, December 29 and lasting into the early morning hours of 2018, you will enjoy four epic shows, headlined by Foo Fighters, Duran Duran and Zac Brown Band, with a special performance by Zac's new side project, Sir Rosevelt.
Kicking off the weekend, on Friday, December 29, Zac Brown Band will perform at The Chelsea, followed later that evening by a special set by Sir Rosevelt, featuring Zac Brown, Niko Moon and Ben Simonetti. Duran Duran performs at The Chelsea on Saturday night, and the Foo Fighters ring in 2018 Sunday evening, Dec. 31 at The Chelsea.
Michael Martin, SVP, Music Initiatives, CBS Radio, said, "This New Year's Eve weekend we're encouraging music fans, travelers and everyone in between to get back to Las Vegas. As the healing process begins, the city's penchant for spirit and resiliency perseveres and comes back stronger every day. Together with these incredible bands and The Cosmopolitan, CBS Radio is extremely proud to present a celebratory weekend in honor of the great city of Vegas." Duran Duran's John Taylor commented, "We are so excited to be part of this special New Year's weekend along with the Foo Fighters and Zac Brown Band. To celebrate the start of a new year in Las Vegas is a thrill and a privilege. There is nowhere we would rather be than with our fans in that great city."
Tickets for all shows go on sale this Friday, November 3 at 10am PT at Ticketmaster.com or 800-745-3000. CBS Radio's Radio.com will offer listeners the chance to win tickets to the shows along with artist meet & greets, round-trip airfare and hotel accommodations. This special New Year's Eve Weekend is designed to help stimulate travel back to the city of Las Vegas. For those not able to attend, they can help by donating to the National Compassion Fund Las Vegas. Earlier this month, CBS Radio made a $10,000 donation to the Fund. To donate $10, text "Vegas" to 20222.