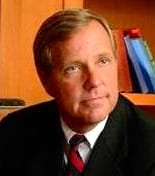 Longtime Indianapolis radio executive Chris Wheat, who helped turn the Bob & Tom-powered WFBQ (Q95) into a dominant local player, died late last Thursday evening at the age of 66.
As The Indianapolis Business Journal reports, Wheat, a 40-year industry pro, was probably best known for his stint as Market Manager of the former Clear Channel Indianapolis cluster from 1984 to 2006. That group included Sports-Talk WNDE-AM, Alternative WOLT and the big gun — Classic Rock WFBQ (Q95), flagship of the syndicated Bob & Tom Show, making it the market's top revenue generator through much of Wheat's tenure.
After leaving Clear Channel, Wheat ran Entercom's Norfolk, VA group for about a year, but he returned to Indianapolis in the fall of 2007 as GM of Cumulus Media's local operations, overseeing Adult Hits WJJK and Country WFMS. In 2012, Wheat moved to Ashville, NC to manage the Saga Communications cluster, and he retired in 2015.
Wheat is survived by Rebecca, his wife of 45 years, and two grown children. A memorial service is scheduled for Oct. 23 at 2pm at Madeira-Silverwood Presbyterian Church in Cincinnati. Wheat's family requests that memorial contributions be directed to the Ocular Melanoma Foundation.