Damien Buck's Voice Silenced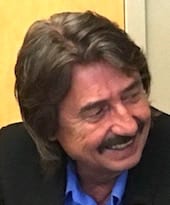 • Damien Buck, who for the past 30 years served as Production Director for Delmarva Broadcasting's WSTW and WDEL/Wilmington, DE, died Tuesday, October 9, 2017, after a long illness. He was 58 years old. Buck, who lived in Townsend, DE, began working for Delmarva Broadcasting Company in 1987, following a stint at the late WAPI (I-95)/Birmingham, AL.
General Manager Mike Reath remarked, "Damien worked for 30 years at WDEL and WSTW, helping our customers come up with great commercials and many, many people here are familiar with his voice. It's a voice that everyone in town would recognize. He was a creative genius." Indeed, Buck, who ran his own production company, "Buck Productions," also did voice work for Disney, and his voice was all over the Disney Channel when it launched in the 1990s.
Longtime WSTW PD Mike Rossi, who started working there as a part-timer 30 years ago today, said of his longtime friend and colleague, "Damien was a cornerstone of our success. As humble as he was richly talented, Damien Buck was the ideal team player." Buck is survived by three siblings and his eight-year-old daughter, Lacy. Check out the additional local coverage — and a link to Damien's amazing demo — at WDEL.com.