Deepest Condolences To Delilah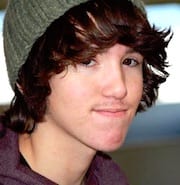 The thoughts and prayers of a nation are with Premiere-syndicated personality Delilah, who is now dealing with the unimaginable — the suicide of her 18-year-old son, Zachariah. On Saturday, Delilah shared the devastating news with her millions of fans via Facebook. The post reads, "My dear friends, I need to share some devastating news with you. In the early morning hours, Tuesday, October 3, my son, Zachariah, took his life.
He was being treated, counseled and embraced fiercely by family and friends while battling depression for some time now. My heart is broken beyond repair and I cannot fathom how to go on… but I have to believe he is at peace with the Lord and that God will get us through.
I will be absent from the radio and on social media for a time as I grieve and try to process this loss with my family. In the meantime we'll be playing some of my favorite shows from the recent past. I'll look forward to my return, as you all lift me up so very much!" Delilah added, "Please pray for my beloved Zacky, and I will pray for all suffering from this debilitating disease called depression."
An important reminder: The National Suicide Prevention Lifeline is available 24 hours a day at 800-273-8255.