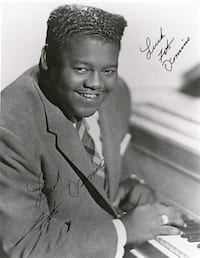 Antoine "Fats" Domino, the rotund, inimitable New Orleans R&B singer and pianist who became one of the defining figures of early rock 'n' roll, died on Tuesday. He was 89. That's the word from Chris Morris at Variety, after the news was confirmed by the Jefferson Parish Coroner's Office in Louisiana.
The most powerful, and certainly the most popular, of a generation of great Crescent City keyboardists, Domino rocked into the public consciousness in 1950 with the self-referential single "The Fat Man," the first of a string of R&B hits that stretched into the early '60s. In all, he toted up nine No. 1 R&B hits and 40 top-10 R&B singles through 1961. In 1955, he crossed over to pop success with the slamming top-10 hit "Ain't That a Shame." He became a pop star of the first rank with hits like "I'm in Love Again" (No. 3, 1956), "Blueberry Hill" (No. 2, 1956), "Blue Monday" (No. 5, 1957) and "I'm Walkin'" (No. 4, 1957).
Domino's biographer Rick Coleman wrote, "As (Domino's bandleader-arranger) Dave Bartholomew would later put it, Domino was the 'cornerstone' of rock 'n' roll, inspiring many later legends who began their careers as Domino fans: Little Richard, Elvis Presley, Chuck Berry, Buddy Holly, John Lennon, Paul McCartney, Van Morrison, John Fogerty, Bob Marley and Bruce Springsteen."
Domino continued to tour into the '90s and continued to appear annually at the New Orleans Jazz & Heritage Festival. In 2005, he made national headlines in the aftermath of Hurricane Katrina, when he was rescued from his flooded home in New Orleans' decimated Lower Ninth Ward. In 1986, Domino joined Presley, Berry, Holly and Little Richard as an inaugural inductee in the Rock and Roll Hall of Fame. He was honored with a Grammy Lifetime Achievement Award in 1987 and received the National Medal of the Arts in 1998.