Heartbroken: Tom Petty Dead At 66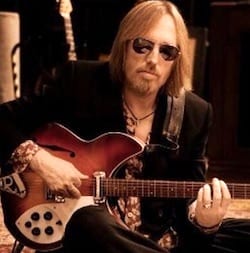 On Monday evening, after a day of tortuous uncertainty, Tom Petty's manager confirmed the news we had all been dreading — the singer died tonight, roughly 22 hours after suffering a devastating cardiac arrest. As reported by Variety's Chris Morris, Petty's manager Tony Dimitriades issued a statement that read, "On behalf of the Tom Petty family we are devastated to announce the untimely death of our father, husband, brother, leader and friend Tom Petty. He suffered cardiac arrest at his home in Malibu in the early hours of this morning and was taken to UCLA Medical Center but could not be revived. He died peacefully at 8:40pm PT surrounded by family, his bandmates and friends."
TMZ was first to report that Petty had been rushed to UCLA Santa Monica Hospital on Sunday night after he was found unconscious, not breathing and in full cardiac arrest in his Malibu home. Around 1pm yesterday, using information reportedly obtained from the LAPD, CBS News "confirmed" Petty's death. Shortly thereafter, however, it was revealed that Petty was, in fact, "clinging to life," causing CBS News and other sources (including RAMP) to walk back that story.
Petty rose to fame in the 1970s as the frontman for Tom Petty and the Heartbreakers, putting out radio hits like "American Girl," "Breakdown," "I Won't Back Down," "Listen to Her Heart," "Runnin' Down A Dream," "Refugee," "Don't Do Me Like That," and many more, including "Free Fallin'" as a solo artist. The band was inducted into the Rock and Roll Hall of Fame in 2002. Petty was also a member of the 1980s supergroup the Traveling Wilburys, along with Bob Dylan, George Harrison, Roy Orbison and Jeff Lynne. In a statement to Rolling Stone, Dylan said, "It's shocking, crushing news. I thought the world of Tom. He was a great performer, full of the light, a friend, and I'll never forget him."
Petty had performed what would be his final show last Monday night at the Hollywood Bowl, the final of three sold-out shows to conclude the Heartbreakers' 40th Anniversary tour.
In December, Petty told Rolling Stone that he thought this would be the group's last tour together. He said, "It's very likely we'll keep playing, but will we take on 50 shows in one tour? I don't think so. I'd be lying if I didn't say I was thinking this might be the last big one. We're all on the backside of our sixties. I have a granddaughter now I'd like to see as much as I can. I don't want to spend my life on the road. This tour will take me away for four months. With a little kid, that's a lot of time."
---
• Our friends at The Mix Group have assembled an audio tribute to Tom Petty that you are invited to use and share. (Password: heartbreaker).