Canales Now Master Of His Domain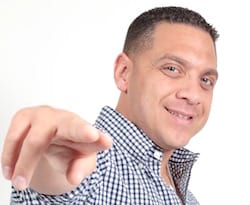 • After a successful nine-year run with JVC Broadcasting, where he rose to VP/COO, Victor Canales just launched a new venture that, in his words, "encompasses my true passions: Events, Radio and Marketing." Say hello to VCMG LIVE — a West Palm Beach, FL-based event and marketing company that just closed on its first acquisitions: True Oldies Channel affiliate WSVU-AM 960/North Palm Beach and two FM translators (95.9 & 106.9), purchased from JVC Media of South Florida. Canales is President & CEO of VCMG LIVE, and he's joined in his new venture by another JVC vet — Matt Goldapper, the company's newly named VP/COO.
"I'm extremely excited to start this next venture in my radio career alongside Matthew Goldapper, and an amazing team made up of Scott Shannon, John Tesh, Stephen Hobbs, Natalie Matyka, Michael Balsamo and everyone else at VCMG LIVE," said Canales, the artist formerly known as Vic Latino. He added, "We are 100% committed to being The Palm Beaches and Treasure Coast's go-to Company for 'live and local' radio, marketing and events. My family and I have already begun our transition into becoming Floridians and we can't wait to experience all the sights, sounds, and, of course, weather of West Palm Beach."

Goldapper said, "We are incredibly excited for what we have planned. This is an amazing opportunity to serve our community and clients. With the combined experience Vic and I have, the relationships we've built, and the team we've put together, I know we're going to make a big impact on this market." GSM Stephen Hobbs said, "Vic and Matt are two shining stars in our industry. Time and time again, they've proven their aptitude for creative ideas and progressive solutions. I know it will be a pleasure to be working for both on ideas and solutions for the West Palm community."
John Tesh, longtime host of Intelligence for Your Life, said, "I'm thrilled for our friends at the True Oldies Channel/West Palm Beach as they begin this next chapter under the ownership of VCMG Live! I love waking up all our listeners in West Palm Beach, and look forward to continuing to do so for a very long time. Best of luck, guys!" Scott Shannon commented, "Congrats to Vic and Matt on their purchase of The True Oldies Channel. These guys eat, sleep and live for radio, so I'm very excited to see what comes next. It's going to be thrilling to work with them." Your best wishes can be sent directly to Vic at [email protected].