DiNardo Exits Entercom SF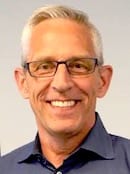 RAMP has confirmed that Steve DiNardo has exited as VP/Market Manager for Entercom's San Francisco cluster. DiNardo's exit comes as the countdown to the pending Entercom/CBS Radio merger continues to tick toward its conclusion.
DiNardo has more than two decades of San Francisco radio management experience and had been ensconced in his Entercom SF corner office since February of 2014. He joined Entercom San Francisco in 2012 as GSM of AC KOIT and later rose to VP of Sales for the cluster. DiNardo previously spent 17 years as VP/GM of CBS Radio San Francisco.
This mega-merger is expected to significantly impact the Bay Area radio landscape — as was recently announced, Entercom is spinning off KOIT and Urban AC KBLX/San Francisco and Classic Rock KUFX (98.5 K-Fox)/San Jose, while CBS Radio has put Top 40 KMVQ (99.7 NOW!)/San Francisco on the block. Stay tuned, as we expect further dramatic developments as this merger draws ever closer.