Howard, Rush, Ryan Making A Nice Living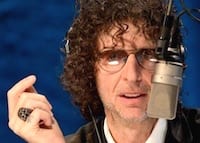 For the third year in a row, Howard Stern tops Forbes' annual list of "Highest Paid Radio Hosts." The magazine just published its annual list of radio's highest paid personalities, and you will be either 1) mightily impressed, or b) quietly horrified to learn that the six guys on this list collectively raked in $315 million over the past 12 months.
Stern, who is one of America's wealthiest celebrities with a net worth of $450 million, earned an estimated $90 million between June 1, 2016, and June 1, 2017, before taxes and management fees. He renegotiated his eight-figure contract with SiriusXM in December 2015 — the deal includes digital distribution channels like apps and video streaming, "which could pad Stern's paycheck in the future," Forbes notes.

The runner-up, at No. 2, is Premiere-syndicated host Rush Limbaugh, who pocketed $84 million. Forbes says Limbaugh "enjoyed a 21% increase in listeners to his eponymous show thanks to a 'Trump bump.'" No. 3 is radio/TV mogul Ryan Seacrest, with a haul of $58 million. As Forbes notes, "The busiest man in show business co-hosted Live! alongside Kelly Ripa and helmed red carpets, the Rio Olympics. New Year's Eve and his radio show, all while producing eight TV shows with the likes of Kylie Jenner and Jennifer Lopez, and churning out a menswear line." The piece also foresees a nice bump in Seacrest's paycheck next year (estimated to be around $15 million) with his return as host of ABC's American Idol reboot.
Rounding out the list are 4) former talk host Bill O'Reilly: $37 million; 5) Sean Hannity at $36 million and 6) Glenn Beck: $10 million.