ICM Ups Six Agents To Partner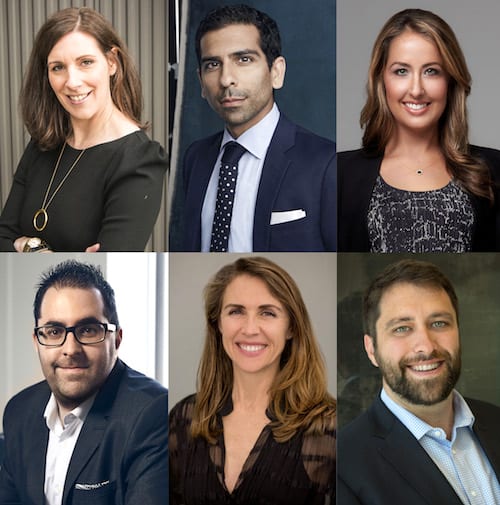 • ICM Partners have elevated six agents to Partners, effective immediately. Please welcome new Partners Ayala Cohen (Comedy), Hrishi Desai (Lit), Adam Ginivisian (Comedy/Concerts), Scott Mantell (Concerts/International), Kathleen Remington (Lit) and Lara Sackett (Physical Production). With this announcement, ICM now has 53 Partners.
Cohen represents Pete Davidson, Fortune Feimster, Amy Landecker, Jay Pharoah, Chris Redd and Cecily Strong. Desai's clients include Bruce Miller, Creator/Executive Producer/Showrunner of The Handmaid's Tale and Grant Morrison, co-creator/Executive Producer of SyFy's Happy!, as well as a bunch of other gifted writers. Ginivisian becomes the youngest partner at ICM, beginning his career in the agency's mailroom in 2007. His diverse roster includes Jay Pharoah, Rob Schneider, Aisha Tyler, Desus & Mero, Anthony Atamanuik, Mikey Day, Southern Momma, Roseanne Barr, Chris Redd, Michael Kosta, Fortune Feimster & Orny Adams.
Mantell represents diverse high-profile clients ranging from Nicki Minaj, Lil Wayne, D'Angelo and Jon Bellion to Cyndi Lauper, Jill Scott, and Postmodern Jukebox. Remington's clients include screenwriter/producer Gary Dauberman (Stephen King's IT and Annabelle: Creation). Longtime client Chris Morgan is the writer/producer behind the Fast and Furious franchise and is writing the Fast franchise spin-off starring Dwayne Johnson and Jason Statham. Sackett represents numerous Academy and Emmy Award winning Production artists, including five-time Academy Award nominated editor William Goldenberg, Production Designer Jack Fisk and maverick commercial and feature editor Hank Corwin. Sackett's longtime client, Bob Ducsay edited Star Wars: The Last Jedi.
In a statement, ICM Partners said, "We are proud to welcome these outstanding agents into our Partnership. Each has earned their ascension through a passion for advancing the careers of our clients, dedication to teamwork and great taste. They each make a unique and important contribution to our culture, which is a major factor in their elevation to Partner."
Pictured, top row, (l-r): Ayala Cohen, Hrishi Desai and Kathleen Remington. Bottom row, (l-r): Scott Mantell, Lara Sackett and Adam Ginivisian.