Save The Date For Taste Of Hope!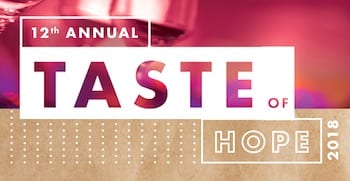 • The 12th annual Taste of Hope wine dinner will be held on Thursday, March 22 from 7-10pm at its usual elegant location — Tribeca 360°, 10 Desbrosses Street, New York, NY 10013. High powered attendees from across the music industry will enjoy an exclusive dinner and some amazing wines while supporting the great work being done daily by City of Hope through a silent auction featuring a selection of distinguished vintages from some of the world's finest private collections.
This year's Taste Of Hope is chaired, as always, by Alissa Pollack, EVP, Global Music Marketing, iHeartMedia, ably aided by an all-star Event Committee that includes Steve Bartels, Tom Corson, co-Chairman & COO, Warner Bros. Records; Dave Dyer, SVP, Promotion, Warner Bros. Records; Mike Easterlin, President, Fueled by Ramen/Roadrunner Records; Bruce Gearhart, President, Bacchus Importers, Ltd.; Marcus T. Grant, VP, Digital Music Streaming, Def Jam; Peter Gray, GM & EVP, Promotion & Media, Warner Bros. Records (MFEI Board Chairman); Richard Palmese, CEO, Palmese Entertainment. Azoff Music Group Antonio "L.A." Reid and Greg Thompson, President, Maverick Music.
Needless to say, space for this intimate event is very limited. For more information, contact Gabriela Aguilera or Sarah Speirs at [email protected] or visit cityofhope.org/MFEI-Taste.