Always Trust A Station Over 50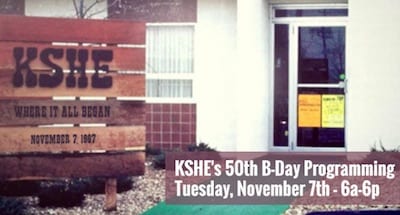 Way back in 1967, during the height of "The Summer Of Love," Emmis-owned KSHE/St. Louis became one of the first radio stations in America to play Rock music on the FM band — a true pioneer of the Album Oriented Rock (AOR) format. Tomorrow, in celebration of KSHE's milestone 50th Birthday (Now how old do you feel?), the 2017 NAB Marconi-winning Rock Station of the Year will feature 12 hours of special programming highlighting KSHE's unique legacy.
At the stroke of 6am, KSHE proudly presents "Where It All Began," kicking off 12 hours of specially themed highlights: 6-10am: KSHE Classics — Favorite St. Louis rock from the KSHE archives; 10-11am: American Woman — KSHE's beloved "Rocktogenarian" Ruth Hutchinson highlights the "SHE" in KSHE with music from female rock artists throughout the decades; 11am-noon: The '60s @ KSHE — Bob Dylan, The Beatles, Beach Boys, etc.; Noon-1pm: The Lunch Show w/Dessert — Rock exclusively from two of KSHE's quintessential artists or themes; 1-3pm: Just 1967 — Rock monsters from the year KSHE was born; 3-5pm: The Album of the Week followed by more of "The '60s @ KSHE; and 5-6pm: Hands Across the Water — British Invasion rock smashes.