Sound Of Silence Thursday @ 1pm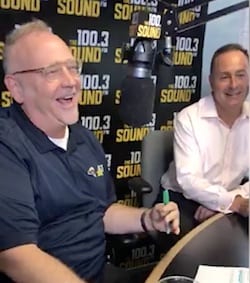 • It's official — Entercom Classic Rock KSWD (100.3 The Sound)/Los Angeles will fall silent at 1pm tomorrow, November 15. PD Dave Beasing made the sad announcement on-air with "Uncle Joe" Benson a short while ago. Sharing the widely held sentiments of the station's loyal listeners, Beasing said, "This isn't just a radio station that's leaving, it's a type of radio. We feel very blessed to have been part of this era of radio."
Beasing (pictured here enjoying a rare moment of levity) then turned the mic over to VP/GM Peter Burton (right), who thanked "Our incredible listeners and advertisers that have supported this special brand over the last nine and a half years. Also thank you to amazingly dedicated employees of The Sound. I will miss seeing you every day." Burton then broke the news that the corporately mandated sign-off would happen at 1pm PT Thursday. Burton added, "We are going to rock it out until then, but it will be over at 1pm." The exchange was captured on video and posted on Facebook.
• RAMP later caught up with Beasing, who was kind enough to share some late-inning thoughts with us. He remarked, "Larry Rosin of Edison Research told [The Sound's original owner] Bonneville not to do this.  Thank God they didn't listen (pun intended). And ever since, we've had bosses right up through Entercom who said, 'This one can break the rules, because it HAS to.' BIG thanks to all my fellow rule-breakers through the years, and to Greg Solk and Peter Burton for being stupid enough to hire me."
• We strongly urge you to take the time to read Beasing's heartfelt "Love Letters To The Sound Air Staff," posted on LARadio.com.