$ongs & $tories For $t. Jude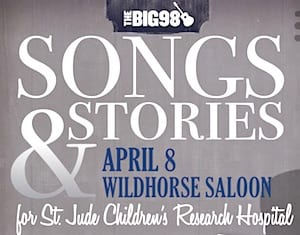 • iHeartMedia Country WSIX (The BIG 98)/Nashville will hold its 6th annual Songs & Stories for St. Jude event on Sunday, April 8 at Nashville's Wildhorse Saloon. The live concert and auction will raise funds to benefit the great work being done by St. Jude Children's Research Hospital.
This year's event will feature acclaimed songwriters Chris DeStefano, JT Harding, Jon Nite and Matt Jenkins, who have written multiple hits for such superstars as Carrie Underwood, Brett Eldredge, Keith Urban, Kenny Chesney and many more. They will share stories about their songs and perform them live. The evening will also include a silent auction featuring autographed memorabilia, items donated and signed by Country artists and exclusive experiences.
Songs & Stories for St. Jude will be hosted by WSIX midday personality Amy Paige and afternoon duo Tige & Daniel. "I'm so proud of this event and Team BIG 98," said Paige. "Through the gift of storytelling, Songs & Stories provides our listeners with an opportunity to give back and show support for the life-saving work being done at St. Jude."
Over the past decade, through charitable events like Songs & Stories for St. Jude and others, The BIG 98 has raised over $9 million to support St. Jude Children's Research Hospital. To learn more about the event and buy tickets, visit TheBIG98.com.