Christmas Is For The Kids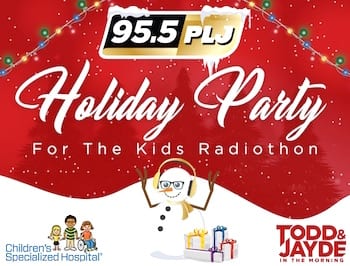 • Only three more shopping days until Cumulus Hot AC WPLJ/New York holds its Holiday Party for the Kids Radiothon to benefit Children's Specialized Hospital Foundation this Thursday, December 14 from 6-10am at Cumulus New York's 17th floor live performance space, Stage 17. The Radiothon will be hosted by 95.5 PLJ morning personalities Todd Pettengill & Jayde Donovan and feature live performances from Fergie, Grammy-winner Jason Mraz (currently starring on Broadway in Waitress) and the pride of Hell's Kitchen, pop artist, MAX.
The Radiothon also includes a bunch of cool, one-of-a-kind auction items up for bid in a very special companion online auction, with proceeds also benefiting Children's Specialized Hospital Foundation. Among the "must bid" auction items is "The Miracle Wall," signed by Miley Cyrus, Kelly Clarkson, Andy Grammer, Selena Gomez, Niall Horan, Charlie Puth, Florida Georgia Line, Shania Twain, Gene Simmons, Mary J. Blige and Mike Piazza and other luminaries. To view the auction items now, please visit the WPLJ website.
Chad Lopez, VP/Market Manager of Cumulus New York, said, "We are honored to host this important event for the children and families of Children's Specialized Hospital during the holiday season. We have a great line-up of talent joining 95.5 PLJ to help us give back to those who need it most at this time of year." WPLJ PD Gillette said, "We are so excited to have the kids from Children's Specialized come to our house this year for the holiday party. We look forward to it all year. It's going to be an historic first holiday in Stage 17 — and then the kids and families get to go home while Todd & Jayde clean up the mess for once!"