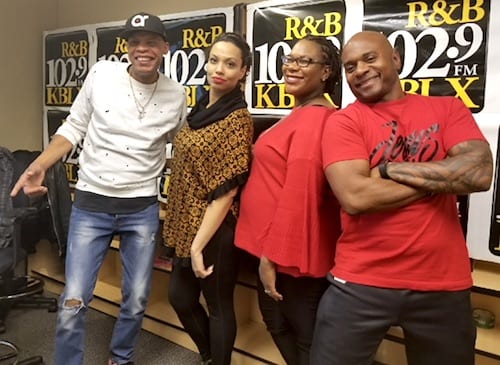 • A Bay Area bride moved her wedding day up five months so that her ailing father could walk her down the aisle. Vieneese Stanton surprised her stepfather, Preston Rolan by holding her wedding last month inside UCSF Medical Center in San Francisco. Mr. Stanton, who had raised Vieneese since she was 3 years old, had been in failing health since he was diagnosed with leukemia earlier this year. Vieneese and her fiancé decided to push up their wedding, and with the help of the UCSF hospital staff, they were able to make their dreams come true and Preston walked Vieneese down the aisle. Sadly, Mr. Roland passed away on the morning of December 4.
Needless to say, Ms. Stanton's emotional journey captured the hearts of thousands of Bay Area residents, including The Morning Dream Team on Bonneville Urban AC KBLX/San Francisco, who invited her in to share her story. As OM/PD Elroy Smith relates to RAMP, "Our morning co-host, Kimmie Tee, reached out to Viennese on Facebook and asked her to come in for a live interview on KBLX. She was shocked and instantly said yes. During her visit to the radio station, Viennese expressed that she and her husband are huge fans of KBLX. As a gift to these newlyweds, The Dream Team gave them tickets to see Boyz II Men and an upcoming comedy show, featuring our own Tony Roberts."
Video of Ms. Stanton's visit with The Dream Team is posted online. Pictured, (l-r): Morning Dream Team co-hosts Tony Sco and Kimmie Tee, Viennese Stanton and Dream Team co-host Tony Roberts. In closing, Elroy added, "This type of experience is what makes a brand like KBLX special and connected locally to our community." Please make a note of Elroy's new email address: [email protected].