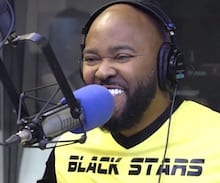 • Longtime Atlanta radio fixture Ryan Cameron surprised more than a few people last Friday during his morning show on Entercom Urban WVEE (V-103) when he announced he's leaving radio to pursue other ventures. His last day is this Friday, Feb. 2. "I've done everything I can in this field," said Cameron, who joined V-103 in 1991 and has worked there a collective 18 years. "It's time for another chapter in my life." Cameron's announcement is posted on V103.radio.com.
According to Atlanta Journal-Constitution media columnist Rodney Ho, Cameron will become a partner at a new Atlanta-based branding firm called Rakanter. The company was founded by Peter Sorckoff, the former Creative Content Officer for the Atlanta Hawks, where Cameron has been the longtime game announcer. This new venture will enable Cameron to work with major brands like AT&T, Coca Cola, the Dallas Cowboys, the New York Jets and the Australian rugby team.
In a statement, Rick Caffey, SVP/Market Manager of Entercom Atlanta said, "Ryan has been a part of the V-103 family for years and we are sad to see him go. I speak for everyone at the station when I say we wish him the absolute best and support him fully as he moves on to his next phase." Cameron commented, "As an Atlanta native, it has been a dream fulfilled to be just the sixth person to host the morning show at V-103 FM. The past 25 years have been the ride of a lifetime and now I'm looking forward to the next adventure."
• As far as a replacement for Cameron goes, the local rumor mill is already pointing in the direction of former longtime V103 morning personality Frank Ski, who just happens to be on the V103 weekend staff….