Cedes & Chonz On The Loose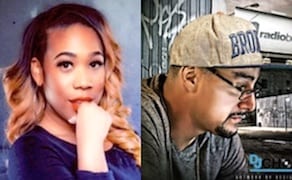 • RAMP has confirmed that Entercom Rhythmic KQKS (KS107.5)/Denver has parted company with two thirds of its morning show, as Mercedes "Ya Girl Cedes" Howard and DJ Chonz have exited. We are told by PD Victor Starr that remaining cast member Tony V will continue to anchor a solo music-intensive wake-up show TFN.
Ms. Howard (left) originally did nights on KS107.5 for five years until late 2015. After a year-long run in middays on iHeartMedia Rhythmic KSSX (Jam'n 95.7) in her hometown of San Diego, Mercedes returned to KS107.5 in June 2017 as the co-host of a newly constructed morning show, joining forces with 20-year station vet Tony V and DJ Chonz (right), who used to do nights and afternoons on KS107.5.
Both of these talented pros are now seeking their next broadcasting opportunities — Ms. Howard can be reached at 619-857-6922 or [email protected], and you can easily make contact with DJ Chonz at [email protected].