Kelly 'K3' Doherty Available Now!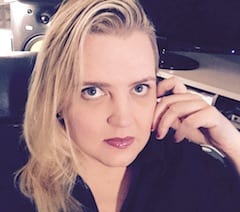 • After 21 years with iHeartMedia and Clear Channel, we were deeply surprised to learn that renowned production magician "KellyKellyKelly" Doherty has left the company as her position as VP of Imaging has been eliminated.
Doherty got her first radio break at KRQQ/Tucson in 1994, and she officially joined the former Clear Channel at KDWB/Minneapolis. In a 2008 profile of Doherty I did for R&R, she explained that she is completely at home within the confines of her production studio. It's where she does her best work, and on her terms. She also shared the deceptively simple philosophy that drew her into an award-winning production career, as she said, "I started my career on the air, and I didn't like it. But if I sat in a production room and screwed up, I could do it over again." And the rest, as they say, is history.
Last Friday, RAMP spoke to Doherty, who told us, "It's hard to account exactly for how much growth and experience one receives over two decades of voicing, producing and writing for the biggest brands and moments that radio has to offer. I'm so very grateful for that time and for the family I created along the way."
With a note of decided optimism (and fully channeling noted time-travel enthusiast Doc Brown), Doherty said, "I'm looking forward to what the future holds… 'cuz once this thing reaches 88mph, you're gonna see some serious shit!" Ms. Kelly can be reached at 323-369-8964 or [email protected].