Morning Show Change @ KEZR/San Jose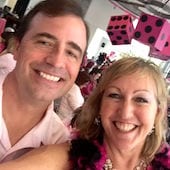 RAMP has learned that Alpha Media Hot AC KEZR (Mix 106)/San Jose has parted ways with morning duo Jeff Pope and Marla Davies. We have also confirmed KEZR will replace them with the Premiere-syndicated Brooke & Jubal show.
Pope (left) joined KEZR in December 2013, following a 13-year run in mornings at iHeartMedia's KGGI/Riverside. He was paired with 19-year KEZR vet Davies, who had previously co-piloted the morning show for 15 years with the late Bill Kelly.
In a farewell Facebook post, Pope said, "Dear San Jose: Thank you for an AWESOME 3 1/2 years! Earlier today, Marla Davies and I were let go from Mix 106. From the time I arrived from Southern California, you treated me with love and kindness — even when my L.A. Kings came back from that 3-0 hole against your Sharks. Thank you for letting us be a part of your mornings, and now I'm REALLY glad I didn't buy a house!" #OnToTheNextAdventure.