Can You Talk To Green Bay?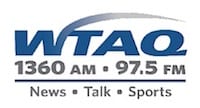 • Midwest Communications' News-Talk WTAQ/Green Bay-Appleton-Oshkosh, WI announced the departure of Jerry Bader, the longtime host of The Jerry Bader Show. The show, which airs weekdays from 9-11am, began on WTAQ in 2004 and expanded into a three-station Wisconsin state network with the addition of WHBL/Sheboygan and WSAU/Wausau-Stevens Point.
Bader had been with Midwest Communications since 2000 when Midwest acquired WHBL. He transferred to WTAQ in 2004 where he became Brand Manager and midday host. In 2016 Bader transitioned into a part-time role while taking on a fulltime job with MediaTrackers.org.
Bader commented, "I appreciate all of the opportunities that Midwest Communications has given me and I wish them all the best." Operations Manager Jason Hillery stated, "We wish Jerry nothing but continued success with his career at MediaTrackers.org and we are thankful for his years of service to the Northeast Wisconsin community and others in our state."
WTAQ has begun the search for a replacement. Interested candidates can apply via midwestcareers.com or email [email protected].