Big Machine Makes Big Splash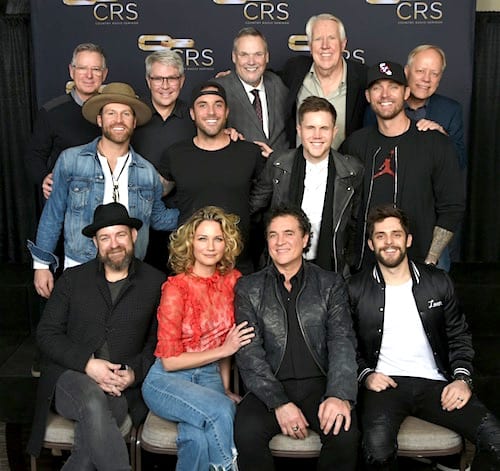 • Offering up star-studded encore during the final day of the Country Radio Seminar (CRS) in Nashville, Big Machine Label Group showcased superstars and in-demand up-and-comers at the Omni Hotel. The annual luncheon hosts Country radio and music industry executives, who were treated to show-stopping performances from Sugarland, Thomas Rhett, Brett Young, Drake White, Trent Harmon and Tyler Rich.
BMLG President & CEO Scott Borchetta invited the attendees to preview new music and celebrate career milestones they helped create alongside imprint leaders Jimmy Harnen, BMLG EVP & BMLG Records President, George Briner, GM of The Valory Music Co., and Jim Weatherson, GM of Big Machine Records.
Pictured, back row, (l-r): Jim Weatherson, Jimmy Harnen, CRB Executive Director Bill Mayne, George Briner and CRB Board President Kurt Johnson (Townsquare Media); Middle row, (l-r): Drake White, Tyler Rich, Trent Harmon and Brett Young. Front Row, (l-r): Sugarland's Kristian Bush and Jennifer Nettles, Scott Borchetta and Thomas Rhett. [Photo Credit: Rick Diamond/Getty Images]