Collins Now Enhanced EVP @ in2une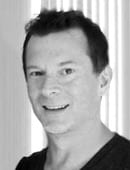 Congrats to Cat Collins, EVP of in2une Nashville on his elevation to EVP Promotion/ Field Operations for in2une Music Inc. In addition to overseeing the Country format, the Atlanta-based Collins (pictured) will now expand his responsibilities across all formats of radio and curation. In this new role, Collins will work with all format heads and their respective field staffs.
In making the announcement, in2une President Dale Connone said, "Cat's resume makes him a perfect fit for this role. He is respected and well versed in all formats of radio and has great relationships. He will be an incredible asset to both our Nationals and Regionals.
Collins started his three-decade music industry career with Geffen Records in Nashville. He later served as VP of Promotion with American Recordings, followed by stops at Maverick, MCA, Curb and A&M/Octone before joining in2une in January 2014. Commenting on his enhanced duties, Collins said, "I've watched in2une grow over the past 10 years, and I'm proud to be a part of this amazing company and team. I'm very excited to work with many friends, old and new, across all formats."