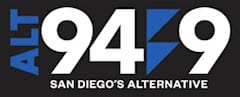 • Yesterday we shared the news of the positive personnel adjustments taking place within Entercom's San Diego Classic Hits KXSN (Sunny 98.1) and AC KyXy. Today, the fun continues across the hall on Alternative clustermate KBZT (FM 94/9), which has rebranded to ALT 949. Please make a note of it.
"KBZT continues to define the Alternative Rock format and the new ALT 949 name solidifies its place as the Alternative music leader in our market," said Bob Bolinger, SVP/Market Manager, Entercom San Diego. "I'm also thrilled about our new line-up for our other two great San Diego radio stations, Sunny 98.1 and KYXY 96.5. These changes are part of our commitment to giving our fans the top of the line listening experience they expect from us."
Just to review, the revised jock line-ups look like this — Sunny 98.1 leads off with AJ and Sara in mornings, followed by Dave Mason in middays; afternoon drive with Gene Knight (a.k.a. The Greener) and PD PD Brooks O'Brian at night. Over on KyXy, mornings are now hosted by Susan DeVincent, leading into new midday talent Dorothy Tran and afternoon driver Joe Rosati. Sherry Knight remains in evenings.