• After a stellar 43-year radio career, all of it spent in his hometown of Yakima, WA, market legend Lou "The Professor" Bartelli retired on September 15, hanging up his cans and stepping down from mornings on Ingstad Classic Hits KARY-FM (100.9 Cherry FM). Stepping up to fill The Professor's huge shoes in the morning is longtime Yakima air talent Steve Rocha, PD of KARY-FM. Rocha will continue to track afternoons on Top 40 sister KHHK (Hot 99-7), as he has for the past five years.
Rocha commented, "I grew up listening to Lou, so when he announced his retirement, I figured at my age — why not be THE ONE to step in and challenge myself to the Classic Hits format. Getting Lou's blessing was huge, and it's an honor to be on the receiving end of the passing of the torch (or the mic, as you will)" Lou had a great 43-year run, and my 24 years pales in comparison to what he's accomplished in this market. I'm excited for my new journey!"
---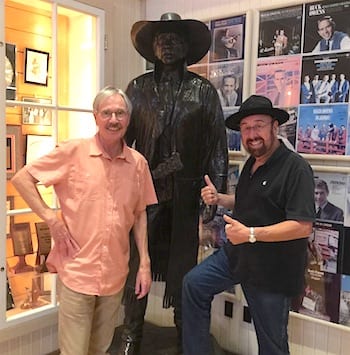 • Yesterday we shared the sad news of the sudden passing of Bakersfield radio fixture Chris Conner, who had done afternoon drive on Buck Owens' Country KUZZ-FM & AM since 1979. The legendary "Shotgun Tom" Kelly worked with Conner at the late, legendary KAFY (The Big 55)/Bakersfield back in 1970-71. That's Conner and Shotgun, in a photo taken last year, tastefully sandwiched alongside a giant bronze statue of the legendary Buck Owens in the lobby of Owens' iconic Bakersfield concert venue, The Crystal Palace, which is located right next door to KUZZ.
Shotgun has many fond memories of his longtime friend and former colleague, as he told RAMP, "I believe Chris was one of the best Country jocks ever. I will miss him." Shotgun also wanted us to share this video he shot of Conner in action air at KUZZ, as he told us, "I would like radio people to see just how good Chris was on the air."