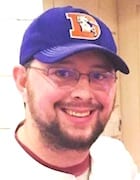 Big day around the radio ranch at Bonneville Country KYGO/Denver, as the staff was looking forward to cupcakes and Hawaiian Punch to celebrate the elevation of Patrick Knight to the lofty role of Music Director. Knight will retain his existing position as Producer of the KYGO Morning Show with Tracy, Goose & Guy.
In making the announcement of Knight's promotion, PD John E. Kage said, "I arrived at KYGO one year ago and Patrick quickly showed himself to be a multi-tool player that I could depend on. In addition to producing the KYGO morning show and handling a part of our imaging, he proved to be a valuable asset in the music. He understands the Country lifestyle, the timing of records as it pertains to the audience, the history of artists, and having helped me with interviews and backstage events he also has earned the respect of the labels for his professionalism."

Knight is a three-year KYGO veteran who previously spent six years with iHeartMedia Country KEEY (K102)/Minneapolis, working on the morning show and learning like a sponge. Knight remarked, "To be named Music Director at a legendary station like 98.5 KYGO is truly an amazing honor and a privilege. I've been blessed to learn from and be around some of the best in the business like Gregg Swedberg, Eddie Haskell and my current PD, John E. Kage. I can't thank Kage enough for not only believing in me, but also trusting me with this position, and I've had a blast learning from him since he started here last year. Finally, a huge thank you to my family (my wife Becky and daughter Madison) for their continued support in my career." Knight can be congratulated at [email protected].