Chmielewski Defeats Spell-Check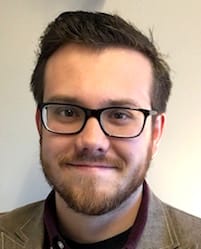 • Chris Chmielewski has been promoted to Assistant Program Director at Hearst's WIYY (98 Rock)/Baltimore. Chmielewski's career with Hearst Radio began as a Promotions Assistant in 2015, and he rapidly advanced with increased responsibilities in promotion and programming at both 98 Rock and sister WBAL NewsRadio 1090. He most recently held the position of Assistant Promotions Director.
Chmielewski's sweet upgrade was made official by 98 Rock PD Rick Strauss, who said, "Chris has become a key contributor at Hearst Radio in his various promotions, production and programming roles for 98 Rock, WBAL and our Ravens broadcasts and network. He has our full confidence as he assumes even greater responsibilities and an expanded leadership role at 98 Rock."
Chmielewski replaces former APD Steve Huber, who left in September after an 18-year run and crossed the street as the new PD of Times-Shamrock Classic Rock WZBA (100.7 The Bay).