Jameson Held Over @ Cumulus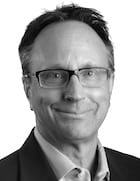 We want to extend this laurel… and hearty handshake to our pal Scott Jameson, who just applied Sharpie to paper and inked a sweet three-year renewal with Cumulus Media to extend his Twin Cities' tenure as corporate VP of Classic Rock and Operations Manager/PD of Classic Rock KQRS and OM of Active Rock KXXR (93X) and Classic Hip Hop trimulcast WGVX-WRXP-WWWM (105 The Vibe)/Minneapolis-St. Paul.
In making the announcement, Mike McVay, EVP of Content & Programming for Cumulus Media and Westwood One said, "We are blessed to have programmers with the talent and programming experience the level of Scott Jameson. This renewal and extension is a huge vote of confidence for Scott." Shelly Wilkes, VP/Market Manager of Cumulus Media Minneapolis, remarked, "We are very happy to have signed Scott for the next three years."
Before joining Cumulus in December 2012, Jameson worked for CBS Radio as Corporate VP of Adult Rock Programming, PD of Triple A WZGC (92.9 Dave FM)/Atlanta and Executive Producer of the Atlanta Falcons Radio Network. Prior to that, he spent 15 years with Clear Channel Indianapolis as Director of FM Programming for Classic Rock WFBQ and Alternative WRZX.
Commenting on his awesome extension, Jameson said, "I have a great job in a city I love, a wonderful family and a dream team staff at KQRS who impress and inspire me daily. I'm a very lucky guy. Thanks to all who have helped me along the way, and special thanks to Mike McVay for his motivational leadership." Your notes of warm congratulations can be directed to [email protected].