Jennings Living On Tulsa Time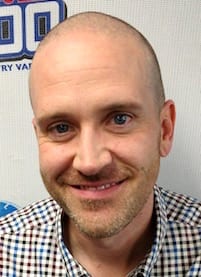 • Scripps Tulsa announced Brian Jennings as the new Program Director of Country KVOO and Classic Country KXBL (Big Country 99.5). His first day in the building is Monday, Nov. 27. Jennings is a 23-year Country radio vet who most recently programmed iHeartMedia Country KZSN (102.1 The Bull) in his hometown of Wichita, KS. He has also worked in various markets from Lincoln, NE to Cleveland. The father of three, Jennings is a self-professed "Country music geek" who is thrilled to make Tulsa his new home and continue building KVOO's historic legacy.
OM Steve Hunter said, "We searched the entire country to find the best Program Director to lead KVOO and KXBL and I know we have found the right person. Brian's passion for Country radio is unmatched. We are so excited to have someone as talented as Brian on our team." Jennings remarked, "The opportunity to work alongside leaders like David Abel and Steve Hunter at Scripps, which believes in building local brands, is thrilling. It's the kind of radio that breeds passionate winning teams and I can't wait to join the Tulsa Team." Jennings succeeds Greg Mozingo, who resigned last month and relocated to the Memphis area to be closer to his family.
• Hunter has also put out a "Last Call" for candidates to fill the KVOO morning host vacancy. It's not too late to make your pitch for this EOE gig — email [email protected].