That Is One Long-Ass Loudspeaker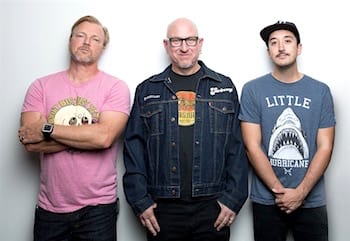 • A radio milestone was reached in San Diego this year XTRA (91X)/San Diego's long-running, award-winning program dedicated to local music, 91X Loudspeaker celebrates 30 years on the air. Currently hosted by (left to right) Lou Niles, Tim Pyles and Andrew Rowley, 91X Loudspeaker has retained the original name penned by founder Marco Collins and has aired on Sunday evenings for three decades, making it the longest-running program dedicated to local music in the United States.
Dozens of bands who had their first radio airplay on Loudspeaker went on to sign major record deals, including Rocket from the Crypt/Drive Like Jehu (Interscope Records), blink-182 (MCA), Lucy's Fur Coast (Relativity), three mile pilot (Geffen), aMiniature (Restless) and Jewel (Atlantic), to name a few.
"91X Loudspeaker has always been an important driving force behind the music scene," said Niles, who hosted the show from 1988-1996 and from 2014 to the present. "It's wonderful to have been an integral part of it all these years as we continue to help great artists with their start and being the catalyst to them breaking out beyond the San Diego scene."
For the show's 30th Anniversary, 91X will highlight the artists and venues still supporting the local scene with Loudspeaker 30, a series of shows in collaboration with promoters throughout San Diego. [Photo Credit: The Joelsons]