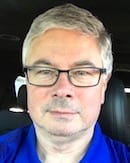 • The EW Scripps Company is now seeking a new PD for Country KVOO and Classic Country KXBL (Big Country 99.5)/Tulsa, OK, as Greg Mozingo (left) tendered his resignation. His last day was Friday, Oct. 6. In a staff memo, OM Steve Hunter explained, "Greg is going to return to the Memphis area to be closer to his family. We wish him the best and thank him very much for his work over the last 1 1/2 years at Scripps. We will immediately begin the search for his replacement." Hunter added, "During the interim, I will be working closely with KVOO APD Kristina Carlyle on the day-to-day operation of KVOO." Hunter is still seeking a morning co-host for KVOO.
Mozingo arrived in Tulsa in March 2016, following a 13-year run as PD of Hubbard Radio Country WIL/St. Louis. His earlier programming stops include WGKX/Memphis, KSSN & KDDK/Little Rock, AR, WCOS & WHKZ/Columbia, SC and WESC/Greenville-Spartanburg, SC. "It was a tough decision to leave KVOO," Mozingo tells RAMP. "I loved working for Scripps but I'm excited to be near family." Mozingo can be contacted at [email protected].
---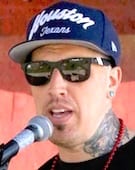 • RAMP has learned of several major changes at Bryan Broadcasting Top 40 KNDE (Candy 95)/Bryan-College Station, TX — first, longtime PD/morning co-host Tucker "Frito" Young recently exited to accept one of those mythical "real jobs" we've heard rumors about — he's the new Area Sales Manager, Southern Region for Stylecraft Builders.
Tucker's former morning co-host Katy Dempsey has been upped to PD and will be joined by an experienced major market co-host — stand by for the official announcement, but say hello anyway to Atom Smasher (left), a longtime Texas radio pro who broke the news himself in a Facebook post that read, in part, "I'm excited to get back on the air as it is the only thing I truly love to do and I think I'm OK at it. The job is with Bryan Broadcasting Company. Their CHR Candy 95 is a monster there and just won the Marconi for Small Market Station of the Year." Señor Smasher most recently did mornings for iHeartMedia Alternative KDGE (102.1 The Edge)/Dallas. He previously co-hosted mornings with Shawnda McNeal at CBS Radio Hot AC KHMX (Mix 96.5)/Houston and at South Central Top 40 WSTO/Evansville, IN. Earlier in his career Smasher spent eight years with KRBE/Houston, followed by a run with KHKS/Dallas.