The (Springfield) Programming Dept.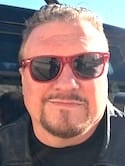 • Pre-holiday restructuring at Mid-West Family Broadcasting in Springfield, IL results in changes in the programming department  — RAMP has confirmed that Wes Styles has exited as PD and afternoon drive personality on Mainstream Rock WQLZ (97.7 QLZ) after a three-year run.
Concurrently, Ken Carson (left), who was hired in October as Operations Manager of News-Talk sibling WMAY (970 AM & 94.7 FM) has now absorbed Styles' former WQLZ PD duties and afternoon shift.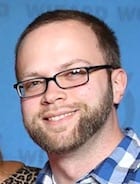 • Styles (below, left) joined the company in July 2014 as OM/PD of Active Rocker WQLZ and now defunct Triple A WLCE (Alice @ 97.7). Before that he was PD/midday talent at Townsquare Active Rock WQBK/Albany, NY. Earlier programming stops include WWIZ/Youngstown, OH and WXQR/Greenville, NC.
Styles is now looking for his next radio opportunity and is, in his words, "ready to move yesterday." Please contact him at [email protected].