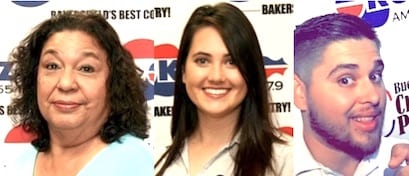 • Buck Owens Country KUZZ-AM & FM/Bakersfield, CA keeps it in the family as PD Brent Michaels announces two staff upgrades — first, current KUZZ evening personality Kendra Anne (center), will move up into the midday time slot currently occupied by market legend Casey McBride (left), who, as we recently reported, is retiring this week. Ms. McBride has been with the company for a remarkable 46 years, and has been on air there for the past 39.
And there's more — "Vic D" Dominguez (right), who does weekends over on sister KRJK (97.3 The Bull) has been awarded fulltime custody of the KUZZ 7-midnight shift. "Kendra and Vic bring a special energy, love for the format, social media savvy and passion for radio into their new positions," said Michaels. "I'm excited for their future and for the future of KUZZ with these new additions. Kendra Anne and Vic D will assume their new time slots on Monday, October 2, and Casey McBride's farewell midday shift is this Friday, September 29.
---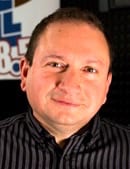 • Congrats to "Tommy Cee" Carrera, PD/afternoon talent at Alpha Media Country KDES (98.5 The Bull)/Palm Springs, CA, who just set his alarm clock (and body chemistry) back about eight hours and moved to mornings, anchoring the newly constructed Moo Crew, replacing the syndicated Fitz Show. Look for a new afternoon personality to be announced soon. "I'm excited at the opportunity to wake up the Coachella Valley and have some fun along the way," Carrera tells RAMP. "Working with Alpha Media continues to be a fun radio ride!"
Carrera joined KDES two years ago after a nine-year stretch co-hosting mornings on CBS Radio Country KFRG (95.1 K-Frog)/Riverside. His previous stops include KMLE and KNIX/Phoenix, KKAT/Salt Lake City, KBQI/Albuquerque, KNEV/Reno and the former KZLA/Los Angeles.