Drivetime Moves @ WRNB/Philly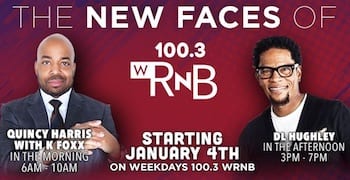 • Radio One Urban AC WRNB/Philadelphia announced two new drivetime shows — The Quincy Harris Morning Show with K Foxx and The DL Hughley Show in afternoon drive. Both show debut tomorrow, January 4 — Quincy will roll from 6-10am, replacing The Tom Joyner Morning Show, while Hughley's syndicated show will run 3-7pm weekdays, replacing Lady B, who exits.
Quincy Harris is a local TV star that is making his return to radio — he did mornings back in the day at WUSL (Power 99)/Philadelphia, followed by a stint with Big Boy on KPWR (Power 106)/Los Angeles. More recently he worked for Radio One's WPHI/Philadelphia, and he now hosts his own TV show, The Q, weekdays at noon on WTXF (Fox 29). His new co-host, K Foxx formerly did nights on WMIB/Miami and mornings on Hot 97/New York.
Jeff Wilson, Sr. RVP of Radio One Philadelphia said, "We're proud to be uniquely Philadelphia, blending Philly's own live and local talent with nationally known powerhouses. This station will have you talking and dancing like no other with Quincy Harris and K Foxx waking you up in the mornings; and DL Hughley and DJ Touchtone taking you home in afternoon drive."