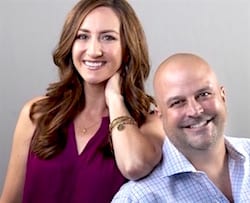 • Lots of activity going on today within the hallways of the Entercom broadcast complex in San Diego — let's start over on AC KyXy, where, after a six-month run, morning duo AJ Machado and Sara Perry (left) are unplugging and wheeling their chairs across the hall to take over mornings on Classic Hits sibling KXSN (Sunny 98.1). Current Sunny morning personality Dave Mason moves to middays, and Sunny PD Brooks O'Brian segues to nights.
Back at KyXy, Susan DeVincent (below) moves from afternoons to morning drive on KyXy, followed by market vet Dorothy Tran (ex-KSON, KEGY) who assumes command of the midday shift as Joe Rosati moves to afternoon drive. Sherry Knight remains in nights.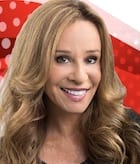 It was last August when Machado left his five-year morning show on former CBS Radio Top 40 KEGY (now Energy 97.3) and crossed the hall to KyXy to anchor AJ Mornings with new co-host Sara Perry, a 15-year veteran of crosstown Variety Rock KFM-BFM. Machado's lengthy San Diego resume also includes three years in mornings on iHeartMedia Hot AC KMYI (Star 94.1), preceded by nearly a decade in mornings on Top 40 sister KHTS (Channel 933).
In a Facebook post, Machado said, "Our time on KyXy was short but AWESOME… we are so grateful for our time there AND we're excited for this opportunity to launch our show on a new station where we're sure we're ALL gonna have a great time! Please add Sunny 98.1 to your pre-sets and definitely keep KyXy there too… it's an iconic San Diego station and the amazing Susan DeVincent will be there every morning."