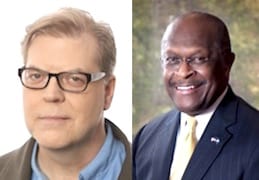 • Cox Media Group News-Talk WSB-AM/WSBB-FM (News 95.5 and AM750)/Atlanta is making a programming swap in morning drive — starting Monday, Oct. 2, The Von Haessler Doctrine, hosted by former Regular Guy Eric Von Haessler, is moving to 9am and The Herman Cain Show will shift to the 11am hour.
Condace Pressley, Georgia Radio Hall of Famer and WSB's Manager of Program Ops & Community Affairs, said of the change, "I knew we had something special the first time I heard the Von Haessler Doctrine on Sunday afternoon. When the show moved to weekdays it took off. With Atlanta's extended rush hours, it's great that listeners will get Eric's take on the morning news immediately following Atlanta's Morning News with Scott Slade."
Pete Spriggs, WSB Director of Branding & Programming, added, "Herman Cain has given WSB and me some extraordinary success — in ratings and in serving the community. Our listeners love Herman, and we're so pleased that he'll continue to be a core part of the WSB lineup. Eric and his entire team have been ideal additions to our radio family — smart, talented and vibrant performers who connect with the Atlanta audience so well. They are already appointment listening on the radio and on podcast. As Eric says, they are the 'fastest growing radio show in America.'" The Herman Cain Show continues as a two-hour program on CMG sisters WOKV/Jacksonville, WDBO/Orlando, WHIO/Dayton, OH and KRMG/Tulsa. The podcast hour of The Von Haessler Doctrine will continue daily at 11am.