Live! From PyeongChang! It's WWO!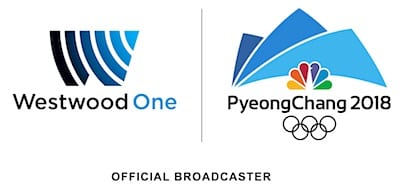 • Westwood One has teamed up with NBCUniversal to present live radio coverage of the 2018 Olympic Winter Games from PyeongChang, South Korea. From the moment the torch is lit this Friday, Feb. 9, through the Closing Ceremony on Sunday, Feb. 25, Westwood One Sports will once again be on hand to provide exclusive in-depth coverage of the Winter Olympics to listeners across America, via radio stations nationwide as well as SiriusXM and for the first time, westwoodonesports.com.
Westwood One will broadcast throughout the Games as live events unfold, with around-the-clock Olympic updates three times per hour; live Team USA Men's and Women's Hockey play-by-play; live coverage of various Olympic Winter events, including figure skating, speed skating, skiing, bobsled and luge; and a daily live show, Today In PyeongChang.
Westwood One will also carry U.S. Olympic Hockey (Men's and Women's) — Live play-by-play coverage of every Men's Team USA game and the Men's Gold Medal Game (regardless of participants) on Saturday, February 24. Women's Team USA vs. Canada on Wednesday, February 14 and the Women's Gold Medal game (regardless of participants) on Wednesday, February 21.