Confetti Canyon Stuck On '11'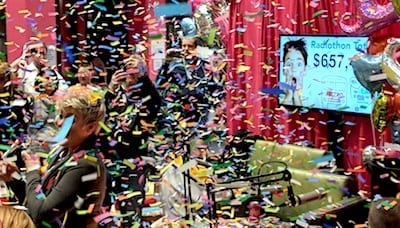 • iHeartMedia's venerable Hot AC WKDD/Akron (yes, the one in Ohio) raised an astounding $657,405 this past weekend during its 9th Annual "Have a Heart, Do Your Part Radiothon" to benefit Akron Children's Hospital. The event was hosted once again by KDD's charming morning show hosts Keith Kennedy and Tony McGinty, who are possibly pictured here somewhere inside this massive confetti blizzard that was triggered when the final total was announced and all heck broke loose.
"And in true 'Kennedy Fashion' — this year was slightly different, as I started to feel the effects of the flu the day before the event," said Kennedy, who in his spare time doubles as iHeartMedia's Area SVP of Programming, North Ohio Region. "But, as they say — the show must go on," he told RAMP. "I spent the three days hosting with either a fan or a space heater blowing at me, depending on how I felt at that exact moment and today I have no voice. You're welcome, Akron™!"
• Over the last 19 years generous WKDD listeners have donated $12 million to the hospital!