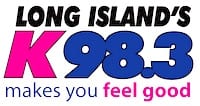 • Connoisseur Media AC WKJY (K-98.3)/Long Island now has a rare morning co-host opportunity available, as Leeana Karlson, half of the Leeana & Steve Morning Show with Steve Harper, made the decision to step away from radio and embark on a new career path with a local non-profit organization.
Karlson had been a presence in the hallways there for the past 13 years; she previously did sales and on-air work back in the day before taking over afternoons on the former WIGX (94X) — now WWSK (94.3 The Shark). She earned the transfer to mornings with Harper on WKJY in November 2011.
PD Jon Daniels is now seeking a new morning co-star. As the posting reads, "Can you be our next team member who loves radio and being part of a team? Are you someone who can truly "open up" and share your life experiences as relatable content, on this Top 20 market heritage AC station?" To apply for this EOE position, please rush your awesome aircheck and resume to Daniels at [email protected].