iHeart Allentown-Harrisburg Ups Five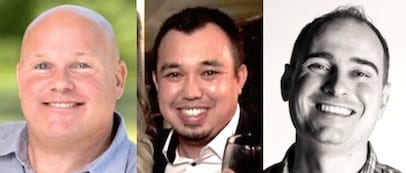 iHeartMedia's Allentown-Harrisburg Region held a massive regional programming promotion party (free balloons for the kids!) to celebrate the simultaneous upgrades of Dave Hovel, Derrick "DC" Cole, Jeff Hurley, Kathryn Alt… and a man known simply as Newman.
Let's start with Mr. Hovel (left), SVP of Programming for iHeartMedia's Salisbury, MD cluster, who now annexes similar duties for the company's Wilmington, DE group. Those stripes had belonged to Derrick Cole (center), who was also programming Top 40 WLAN/Lancaster, PA. Cole has now been tapped to fill the PD vacancies at WAEB (B104) and WZZO/Allentown, PA, succeeding "Kyle Anthony" Due, who in July was named PD of Country KAJA (KJ97) and Classic Country KRPT (92.5/93.3 The Bull)/San Antonio. Coles has bequeathed his WLAN PD duties to Jeff Hurley (right), who remains Regional SVP of Programming and PD of WHKF (93.3 Kiss FM)/Harrisburg.
Hovel said, "This is a homecoming for me, having spent nearly a quarter-century in the market and having already worked side-by-side with Sky Phillips, Christa Cooper, Kat Alt and Buzz Arnold… We are hitting the ground running!" Cole commented, "Over the past five years I've been able to work with some great brands in this region, and with some of the best people who are passionate about what we do. To those I say, thank you! Going to Allentown was always the next step in my mind and I'm beyond excited for this opportunity."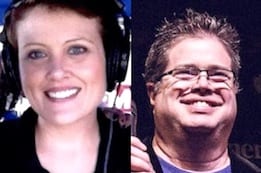 Kathryn Alt ( left), PD of Adult Hits WRDX (92.9 TomFM)/Dover, DE is awarded bonus PD duties for Country clustermate WDSD. "I can't begin to express what an honor this is," said Alt. "I can still remember the day I started at iHeartRadio Wilmington — my sole responsibilities were to get coffee and book morning show guests. Almost 20 years later, I'm so proud to be overseeing 94.7 WDSD. The station is an integral part of our market and our community. It is such an amazing opportunity." Mr. Newman (below, right), longtime APD/MD of Country WRBT (Bob 94.9)/Harrisburg, has been upped to PD. "I am beyond excited to be trusted with WRBT, the station I've called my home for nearly 17 years," said Newman. "I look forward to working with some of the finest programmers in the business."