Greener Pastures For Fields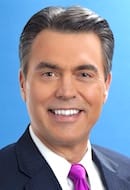 Nationally known TV meteorologist, game show announcer and radio pro Rich Fields has been named as the new afternoon drive personality at Beasley Classic Hits WRBQ (Q105)/Tampa, starting today. Fields most recently served as a Meteorologist at KCBS-TV/Los Angeles. He also worked at KCBS-FM, KRTH (K-Earth 101), KODJ and KNX-FM/Los Angeles.
On the TV side, Fields was named Bob Barker's announcer on The Price Is Right in 2004, where he spent nearly a decade and was named "Best Announcer of the Year" by the Game Show Hall of Fame in 2009. Fields also holds the record for announcing the most network televised game shows in a single season (7). Throughout his career, he has lent his voice to nine TV game shows, including The Price is Right, Wheel Of Fortune, Family Feud, Press Your Luck, Let's Make A Deal, Card Sharks, Match Game, Beat The Clock and the Florida Lottery's Flamingo Fortune.
The move back to Tampa marks a radio homecoming for Fields, who started his career at Q105 and also worked in the market at WCOF, WYUU and WSUN. "I grew up listening to Q105," said Fields. "It's the radio station that inspired me to get into broadcasting. To be able to return home to where it all started for me is a blessing. I thank Beasley Media Group for their confidence in me and for the opportunity to liven up Tampa Bay radio."
Q105 PD Ted Cannarozzi said, "I'm extremely proud to welcome Rich to the Beasley family. Rich's energy, both on and off the mic, is a perfect fit for Q105." Concurrent with Fields' debut, current Q105 afternoon jock Dave "Flash" Morgan will move to nights.