Adventures In Brand Extension: RAMP247.com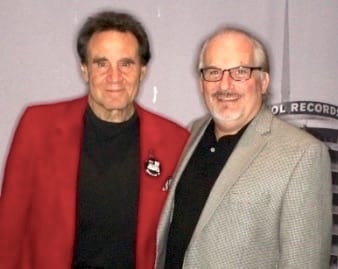 Why are these two guys smiling? Well, for one thing, we are incredibly proud to announce that RAMP recently reached a major publishing milestone — we just celebrated our 8th anniversary! It was Sept. 23, 2009, barely three months after the closing of our beloved Radio & Records that we published the first issue of what was dubbed RAMP (Radio and Music Pros). Shockingly, people seemed to like it, so we did another one the next day… and so forth.
Fast-forward 403 weeks — and nearly 2,000 issues later, and we have much to be thankful for. Due to popular demand, we are pleased to announce today's official launch of RAMP247.com — a tasteful online companion to your daily RAMP newsletter and a permanent round-the-clock repository for RAMP content that will allow you to revisit your favorite stories and share them with your friends, colleagues and, most importantly, your parents, who still don't quite understand what it is we do for a living…
We want to publically thank Tom Pinkus and Chris Peaslee of Vipology for their mad skillz (and infinite patience) during their construction of our site, our pal Zena Burns for her invaluable insights, and a huge thank you to our original RAMP Graphics Goddess Sonia Horne for her awesome refresh of the RAMP newsletter to coincide with the launch of RAMP247.com.
We would be remiss if we didn't pause to sincerely thank three good friends who were there at the beginning, and whose individual contributions, passion and influence were instrumental in shaping the subsequent success of RAMP — Rob Barnett, Warren Chao and Keith Berman.
Now, as we embark on our 9th(!) year of RAMP, we are reminded that a) this is the longest I've ever held one job in my life, and b) We've never worked as hard — and had so much fun — as we've had over the past eight years. Here's to another decade or two, and on behalf of Steve and myself, we humbly thank you for your ongoing belief and support of our little science project. Now go visit RAMP247.com… we could use the traffic. — Kevin Carter & Steve Resnik