Cedar Rapids Now 37% Hotter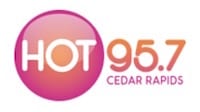 • iHeartMedia Top 40 KOSY (Y95.7)/Cedar Rapids, IA has rebranded as "Hot 95.7, Cedar Rapids' #1 Hit Music Station." To accompany this new name, we understand the music mix is now leaning a bit more Pop/Rhythmic, and PD Sean Strife moves from middays to afternoons and adds the syndicated swagger of Ryan Seacrest in middays. Fun Fact: Before Strife was named PD of KOSY in February, he was the Producer for On Air With Ryan Seacrest at KIIS-FM/Los Angeles.
The revised Hot 95.7 line-up now looks like this — 5-9am: Elvis Duran and the Morning Show; 10am-2pm: On Air with Ryan Seacrest; 2-7pm: Sean Strife, and 7-midnight: Brady At Night. Thank you for listening!